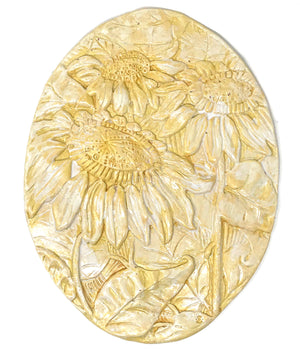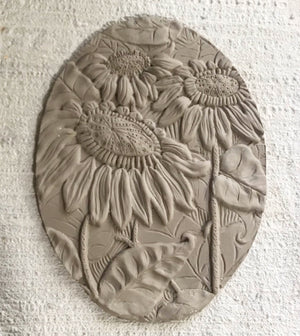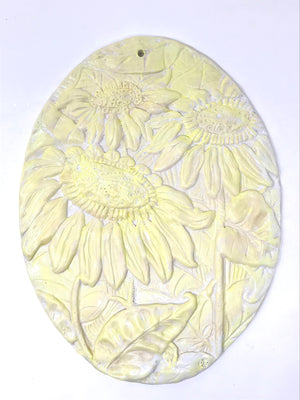 Product image 1

Product image 2

Product image 3

Sunflowers symbolize adoration, loyalty and longevity. Sunflowers are known for being "happy" flowers, making them the perfect gift to bring joy to someone.
This is a hand-pressed tile, made from an original mold and is glazed by hand in your chosen colour(s)
This listing is  just for the medallion but a frame can be created for an additional fee. 
Each tile is made by hand in Ramara, Ontario by tilemaker,

Meg Leslie

These tiles are designed for wall use and have a variety of applications, such as: a bathroom niche, focal walls, and kitchen and bathroom backsplashes.
Material: Porcelain
Size   12" high x 9.25" wide
Weight: 5 lbs
Glaze colours:

 This tile is available in 19 unique colour options.

Custom Colour Frame tile:

 Message the artist with any additional requests.

Custom Requests: 

Custom requests inspired by this design are welcome, please fill out the custom requests form below 

(in the 'custom

ize this product'

 

tab) to work with me on your design.
"Of the Garden' is a series inspired by the sweet seasons of spring and summer. Imagine that we moved in to our new home in February..... watching new flowers and plants come up in the garden last summer was so exciting. Peonies, daisies, sunflowers have kicked off this collection."
Customize This Product
I love having the chance to work with people with their custom orders. If you are inspired by my products and want to work with me to design something that perfectly fits your needs, please use this form to get in touch.
Frequently Asked Questions
How is this tile made?
All of my tiles are handmade and hand-pressed. This means that each tile is unique and may differ slightly from others. However, I take time and consideration to ensure your tiles meet the highest standards for quality and consistency. Depending on the type of tile you purchase the process is unique. Visit my 

about

 page to learn more about how my tiles are made.
What material do you use?
My tiles are all made from porcelain and mounted on mesh. Porcelain is a ceramic material made by heating clay-type materials to high temperatures. Porcelain is considered sustainable as it's the strongest of all the different types of clays. It is made to last, being both soft and delicate to create intricate designs and yet strong and long-lasting.
What is the lead time on my order?
My products are handmade to order, lead time will vary based on the type of tile you are ordering as well as quantity. For moderate orders you can expect a minimum of 4-6 weeks from order to shipping, whereas custom tiles may take longer based on the consultation process. However, I encourage you to contact me to talk further about the lead time on your order.
What shipping options exist and where do you ship to?
My products are available for local pick up, in Ramara Ontario, and ship anywhere in Canada or the USA

.

Please note that orders outside of Canada can take longer for delivery and may be subject to import/value-added taxes that are beyond our control. If you are outside of Canada/USA please contact us to inquire about shipping opportunities and costs.
What is the refund/exchange policy?
Due to the custom nature of creating these pieces all sales are final.  I stand behind my products and take the utmost care for each order. Your satisfaction with your purchase is very important to me, if you have any concerns with your purchase please contact me.
How do you install this product?
With installation, we recommend these tiles be installed by experienced professionals. Grout needed for installation is not included in the product listing for my tiles.  Applicable grouts in a variety of colours are available at most hardware/home improvement stores. If you have questions regarding installation or need recommendations for potential installers please feel free to get in touch.
How do I contact Atherley Arts?
I would love to hear form you. I can be reached by phone at 519-501-0680 or by email. 
Commercial Projects
Working on a residential or commercial project? I offer commercial pricing for larger-scale installations and for designers. Contact Me
My bathroom is my favourite room of the house! The beautiful mosaic glitters and shines even on the most dull days. I am transported to another world when I look at the intricate work that Meg created.
Maryanne
Our boys (7 and 5) still enjoy looking at the mosaics and discover new things every time. Thanks to Meg we have the unique and outstanding home that we always dreamed of.
Katharina
Meg is a creative tour de force!
Leslie